So, That's Where the Money Goes! - You look at the bottom line of a profit and loss statement to see how much money the business made. Yet, when you look at the checking account the number is different. And it is not likely that the checking account is larger! If your business is making a profit, why isn't all of that money sitting in your checking account for you to use? Attend this Tom Shay session to learn why this happens and how to get better control of it.
Your Assets - Are they Working for You or Just Sitting There? - Your business controls a lot of assets to make your business profitable. But, have you ever stopped to analyze just how well these assets are working for you? This session, along with the free tools from the Profits Plus website, will help attendees to learn just how well their assets are working.
Can You Get More From The Investment You Have in Your Business? This presentation asks participants to examine their business from the perspective of the money they have invested. Is this the best place for their money to be invested? It should be. And once they know how much return they are getting, they are shown how to increase that rate of return. This session utilizes a free calculator from the Profits Plus website.
How Much is That Doggy in the Window? The Cost of Holding Dead Inventory That doggy may look cute when it is a puppy. But if it is not sold and becomes a much older dog, the cute aspect is gone and the dog has eaten a lot of food. That means the price of the dog goes down and the cost of the dog is essentially a lot more. Inventory is a lot like that.
We are going to take a look at inventory solely from a financial perspective. Your return on investment can be greatly affected by how you are turning your inventory. Get rid of the dead inventory; purchase inventory that moves and the bottom line of your business will greatly improve.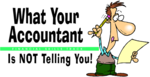 What Your Accountant is NOT Telling You - It is not intentional; but there are many things that an owner or manager needs to have a better understanding of with regard to financials. This session will explain the eleven aspects of financial understanding that are most frequently missing in the relationship between the accountant and the business.